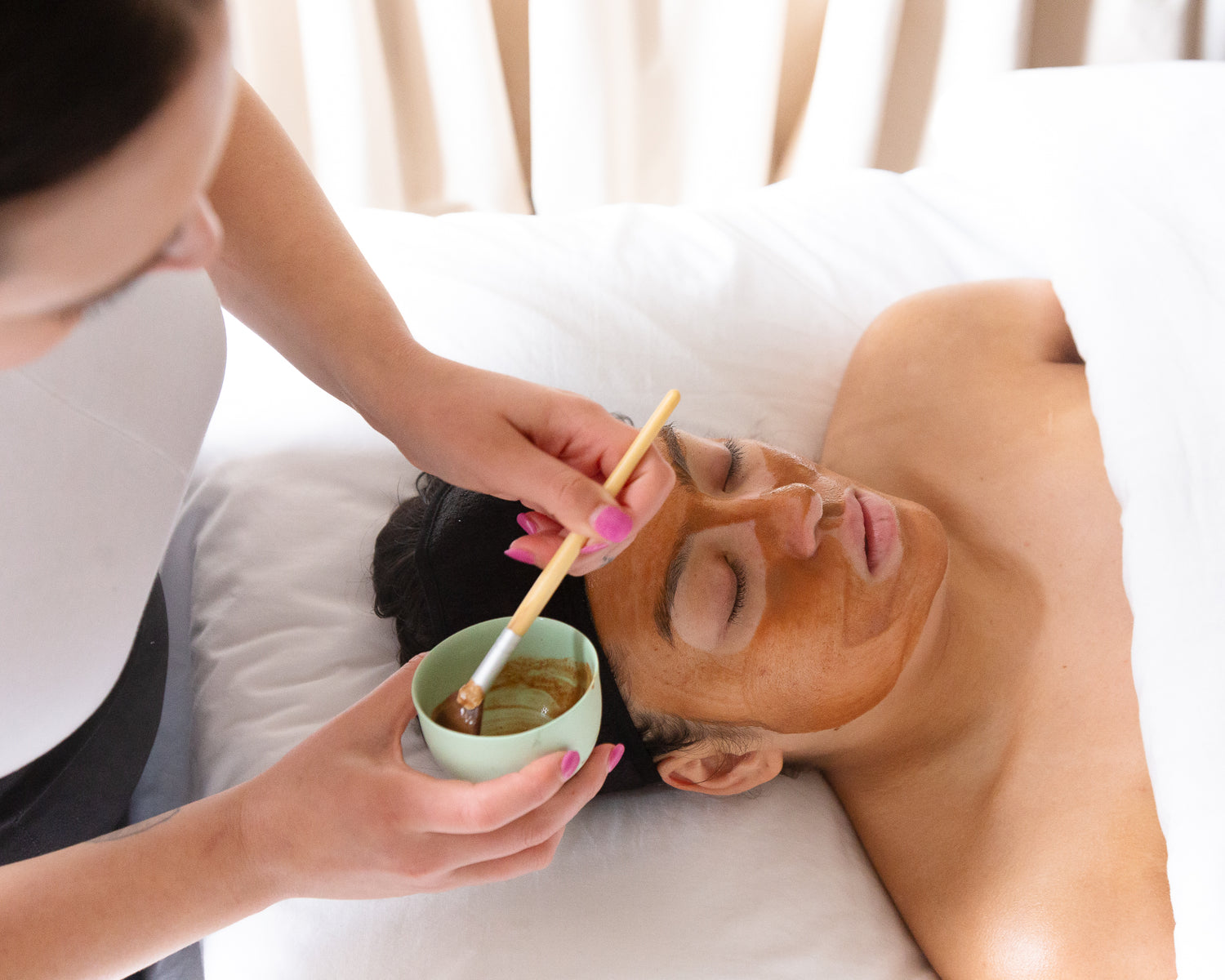 We are first generation, womxn-led. We provide a safe space for all individuals, including those within the LGBTQ2+ community, BIPOC community. We foster dynamic, inclusive healing spaces for all. Our services are gender-inclusive; offered to all body types, all skin types and all peoples.
Book a service
Services
Facials

Our custom facials are designed to address your unique skin concerns and goals. Our experienced estheticians will analyze your skin and create a personalized treatment plan to help you achieve your desired results. Our facials include a deep cleanse, exfoliation, extractions (if needed), and a hydrating mask, leaving you with refreshed, glowing skin.

Book a facial service

Hair removal

Our sugaring hair removal services provide a natural and effective alternative to traditional waxing. Our expert estheticians use a paste made of sugar, lemon, and water to gently remove unwanted hair from the root, resulting in smoother, longer-lasting results and less discomfort. Sugaring is also eco-friendly and biodegradable, making it a sustainable choice for hair removal.

Book a sugaring service

LED Light Therapy

Our LED light therapy treatments use different wavelengths of light to target specific skin concerns such as acne, hyperpigmentation, and aging. The light penetrates deep into the skin to stimulate collagen production and improve skin texture and tone. LED therapy is non-invasive and requires no downtime, making it a great option for those seeking a quick and effective skin treatment.

Book an LED treatment
Collapsible content
Spa Consent Form

All clients must fill out a Spa Waiver + Consent Form.  Please arrive 5-10 minutes early if you need time to fill out your spa waiver+consent form.
Tips for first time sugaring clients

Make sure your hair is at least ¼-inch long — above the size of a grain of rice. If it isn't, you won't be able to get sugared and you'll have to reschedule. If it's on the longer side — 3/4 inch or more — your technician is happy to trim it for you.
A few days before your appointment, lightly exfoliate with a buffing mitt or washcloth to get some dead skin cells out of the way. This will help prevent stray hairs from getting left behind.
The day of, minimize your caffeine and alcohol prior to your appointment. 

To minimize pain or discomfort, take an over-the-counter pain reliever about 30 minutes before your appointment.
Cancellation Policy

Out of respect for our Self-care and Beauty professional's time, and clients on our waitlist, we ask that if you need to cancel your appointment, please give us at least 24 hours notice. For late cancellations, or no-shows the full cost of your service will be charged.


Please call 206-708-7985 or email: appointments@goodsisiter.shop or contact your service provider directly.

If you have a history of canceling in less than 24hours or a history of no-shows, management may require that you pay a deposit or pre-pay for your service in order to secure your next appointment.